Long Post: Debriefing on the Launch of Mary Not Broken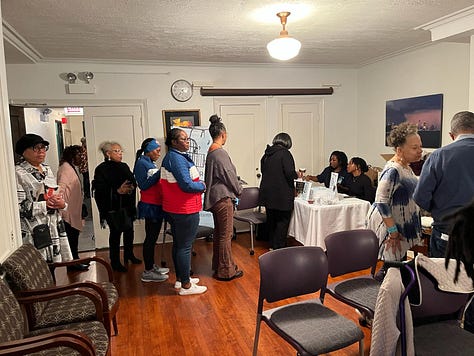 My heart is full.
I feel like I say that a lot, but it is for real this time… I really mean it.
I'd say the launch of Mary Not Broken was the best launch I've ever had.
I guess prep began on Sunday the 15th with my daughter braiding my thick heavy butt-length locs, which I kept braided for a week. I could hardly sleep from the headache from the tight lumpy braids.
On the 19th, I got an hour long facial and left Diya's salon with glowing skin. I felt pretty. Then I went shopping and bought too much food. Well… I didn't think it was too much at the time and was quite proud of myself for going only slightly over budget (by about 100%). I found all sorts of delightful little food thingies at Aldi. I bought a Costo membership and trudged through the store to find the deli order kiosk and 8oz bottles of water. At GFS, I found napkins and fresh Basil.
On the 20th, I got my nails done, and then two of my sisters and I spent three hours impaling little food thingies on cute little pearl decorated toothpicks (pro tip: don't put strawberries and olives on the same tooth pick). 359 pieces to be exact. Still exhausted from lack of sleep and my shopping excursions, I agonized over whether or not to make caramel popcorn that night. My son advised against it since nobody would be expecting homemade caramelcorn anyway.
On LAUNCH DAY I was awake at 5:30am but forced myself to remain prone until 6. Then I got up, made coffee, and began the arduous task of taking out my braids. It took over an hour. My hair looked fabulous. Oh yeah, I put table cloths and my clothes in the dryer to iron. I went through my lists and counted the packed boxes, checked in with The Writer's Room-Weekend Edition, then I headed out to Costco where I picked up a sandwich tray and after I was in my car headed home, I remembered that I'd forgotten to get a big box of fancy cookies. No biggie cuz I had to go to Meijer to pick up Sharpies and fruit dip. Yeah, I forgot to get the cookies there too. Ok… I was next headed to Mariano's to get some of their delicious cupcakes but my 3rd sister called and picked up the cupcakes (with yucky sprinkles) for me, yay!
At 10am, my daughter started calling demanding to know my where abouts, and asking if I knew we needed to leave in an hour. I got home, changed clothes, and began loading, all the while lamenting the lack of caramelcorn and cookies. My sister arrived with the cupcakes and helped load the cars, also insisting that the event needed no more sweets.
Yikes… I needed to get ICE, and dammit, I forgot the hand sanitizer! Ok, we were still on time and my kids reminded me that the ice would be partially melted after the hour long drive to the city so we made a quick stop at Walgreen's for hand sanitizer. My plan was to search for caramelcorn and cookies there, and maybe ice too, but my daughter dashed those plans and went inside the store herself. Curses, foiled again.
Finally getting to the venue, we met the grumpy old security guard (who was just a loud sweetheart). The unloading took about 20 minutes. My daughter's twin friend arrived (I so think she'd make the perfect daughter-in-law but my son doesn't know she exists). Then came my baby brother. They helped set up the room and lay out the food. Sisters 1 and 2 arrived in matching birdcage (Glory Bishop cover logo) shirts. Prompting Mary Mitchell to ask for one also…but alas, my daughter had already traded her thick heavy winter sweater for the last birdcage shirt; so now I'm ordering shirts for Mary Mitchell and the twin friend.
Family started arriving at promptly 1:00pm. Sister 4 surprised me by arriving with her her teenaged son (not really a surprise) and BigMama and two nieces who argued over what to call me—Auntie Lolli, that they've called me all of their lives or Miss Deborah since this was a professional event and I was now a famous author.
Then my cousin-god daughter-sister-friend arrived. She and baby brother (her cousin-brother) hadn't seen each other for 20 years (long story). They hugged and sobbed for a full 10 minutes. Made me cry too. Oh yeah, she brought the ice. Now the room was ready and real guests started arriving.
Real guests. People not related to me. Fans. People I didn't know. A lot of them.
I'm mostly totally comfortable with my writing compatriots on ZOOM, but in real life…OMG. I got flustered and froze up and shut down. I busied myself by fiddling with the food table and rearranging the flowers and setting up banners and anything to avoid associating with real live humans. I even avoided my family.
Ok, at the insistence of my sisters, I stopped piddling around and I tried interacting with the visiting fans. We chatted about where they were from and why they came. One fan told me how to get my book into the Chicago Public Library system. Forgive me, I don't remember what he said. There were guests from the far northern suburbs (well over an hour away) who heard about me through their book club. Wow… real fans!
My awesome godmother gave a spectacular off-the-cuff introduction. The interview and book discussion was great. I've known Mary Mitchell for a while, and while she's not intimidating, I was intimidated cuz she's The Mary Mitchell of The Chicago Sun-Times and she wanted to talk to me about my writing in a professional capacity.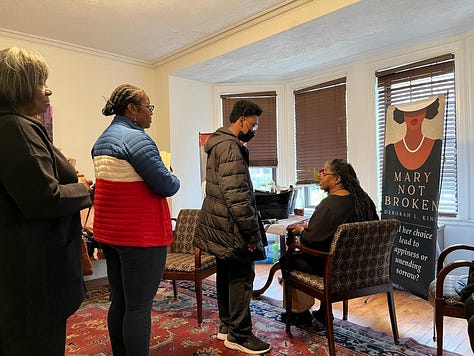 At first I thought I was blowing it because I couldn't look around talking to the whole room and maintain my train of thought. I worried about spoilers, but fans and guests asked such specific questions that they were inevitable. After a while, I managed to relax and stay focused and even stopped worrying about spoilers and just discussed the books (I had a cup of champagne in my hand the whole time). I got a standing ovation. Only after the interview was over did I realize I had failed to mention the recipes at the end of the book.
There was a slight tech hiccup with the credit card app, but my daughter handled it like a pro. I looked up and there was a long line at the purchase table. Then I looked up again and there was an even longer line in front of me waiting for autographs! One fan had bought 3 of every book! I sat signing books for about 30 minutes while my sisters refilled my drinks.
I had specially hand decorated book marks in each book and a ceramic mug or cotton tote bag for anybody who purchased all three books. Well, as I was signing books, I noticed fans with all three bookmarks and a mug or two. Yeah, my daughter was quite generous with the swag.
The event ended as scheduled at 3:00pm with about 20% of the food left, much to my son's delight (he loves charcuterie). Cleanup was quick. Sisters and kids and cousin-god daughter-sister-friend (took the leftover hummus and crackers) and baby brother (took the leftover sweet tea) wouldn't let me help with anything. Sister 3 arrived and helped with cleanup. I tipped the grumpy old security guard (really just a loud sweetheart) who was thrilled. I got home with far fewer boxes than I started with, and unpacked the food and unopened champagne. Today I have to unpack and inventory the books and bookmarks (mugs and totes are all gone).
As I said before, my heart is full. I am so humbled and thrilled and grateful. I may never have another book launch cuz I don't think this one will ever be topped.
If you've read this far, thank you so much for sharing the day with me. Yeah…my heart is full.